Miroslav Gajdoš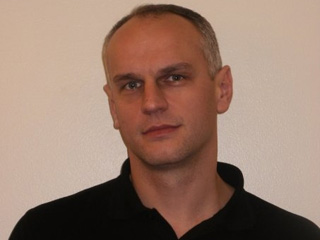 Miro is NaturFit founder. He holds several prestigious qualifications:
Kinetika Personal Trainer
YMCA Circuit training
Boxercise Instructor
YMCA Fitness trainer
Lifetime Fitness- special population training
Vitalis- Fitness trainer
During his career, Miro has provided more than 7000 hours of personal training. Among his clients are managers, bankers, doctors, actors, athletes and musicians as well as teachers, accountants, social workers and politicians. This fact demonstrates that personal training is suitable for anyone who is seriously interested in achieving results quickly, efficiently and safely.
The idea to create a comprehensive training concept was created during his tenure in London. As former professional football player, he went there in 2003 when a knee injury ended his football career. After obtaining all the required qualifications, he worked sucessfully for seven years as a personal fitness trainer in Putney and South Kensington. In 2010, he and his wife moved to Slovakia to launch the NaturFit project.