Chalet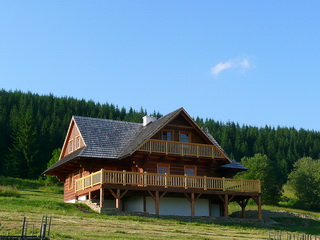 It is built in one of the most scenic parts of Slovakia. Our intention was to create a healthy building in a healthy environment. We also wanted to maintain the traditional Slovak mountain architecture that naturally fits into the environment.
Chalet is built entirely from the natural materials.
The main structure is the traditional log frame of massive spruce logs. Oak shingle is the covering for the roof. As insulation, we used sheep wool and hemp, which allows construction to breathe. Indoor environment is improved by quality clay plasters, casein paint and natural oils that provide the ideal humidity and ecological compatibility. Oak and pine floors are also impregnated with natural oil, same applies for all furniture. Heating is provided by a traditional tile stove which is the heart of the chalet and a source of healthy radiant heat. Water is from a local spring, without the presence of chlorine. Chalet is located near the forest at the end of the village in quiet and peaceful place.